Copyright, All Rights Reserved Pamela J Curry 2022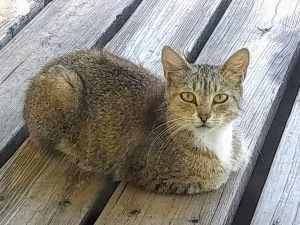 LOLA, SPECIAL NEEDS MANX – 3 Years Old, Needing Diapers
Lola's Last Chance for a Special Needs Caretaker/Mom
Please don't be mad if I require some type of credentials or reference, Thanks.
The last year Lola has been entirely inside and training to be handled!
She saw a Vet in May of 2021 for Vaccines, FIV, FRVCP, Rabies, an Exam and Fecal Test.
Location Central Florida County with the Highest Euth in Florida
UPDATE LOLA, Thursday March 24, 2022
LOLA WAS REFUSED CARE 7 DAYS AGO, I WAS TOLD WHERE I COULD TAKE HER IT WAS TO A VET'S OFFICE I KNOW AND HAVE A RELATIONSHIP WITH SO I ALREADY KNOW I CAN'T AFFORD THEIR SERVICES, THE WOMAN WHO DROVE ME COULD NOT AFFORD THE EXTRA GAS.  I'M TAKING ACTION AGAINST THE TEMP VETERINARIAN, WHO HAS A HISTORY OF JOB HOPPING, RECENT ANNULMENT AND APPARENT MENTAL DISABILITY, AND MISLEADING ONLINE APPLICATIONS & LICENSES
Thank You!
Thanks to CCAS, an individual small donor, and a Woman in a support group for Manx Cats with possible Manx Syndrome LOLA is being well cared for in my rental. I regroup after next week. I have had code enforcement and building inspectors in the house repairs are being made and I'm busy 24/7.   Lola must be relocated permanently to an accredited sanctuary familiar with her problems. The Grant money and small donation are still available to relocated her or anything else I think will save her life.
                                         I CAN'T SAY WHERE MY OWN 6 CATS AND DOG & I WILL BE IN ONE MONTH.  LOLA IS THE SWEETEST CAT.   I'VE RELOCATED MANY CATS FROM A HIGHWAY, MANY DIED. LOLA AND HER BROTHER ARE THE ONLY TWO CATS LEFT FROM DOZENS. I SPENT QUALITY TIME WITH HER GETTING HER WELL FOR ADOPTION BUT IT APPEARS HER CONDITION IS PERMANENT
PLEASE HELP FIND LOLA  A SANCTUARY!
FEBRUARY 2022, LOLA was named Manx of the month, or whatever title she had and was given a GRANT by CCAS, Colorado Companion Animal Sanctuary. They are coming back after a fire It took a long time. They had a contractor take their money and not complete their rebuild. I was overwhelmed because by FEB I had made it clear, she was helped by me only with an Angel Fund, Free TNVR and a discounted exam from my Vet. I was at the end of my ability to help her, and unclear on how to relocate her. I live in the county in Florida with the highest euth rate in the State.  My Vet of 3 decades died December 5th.  I can't keep her. I made one last appointment with his office to get her bloodwork and a fecal. I had the GRANT money, and she was recovering from being on an alternative food, she eats Hills Science Diet Biome Gastro. It makes a huge difference in her energy level and in how her pooh is formed. I had communicated several times with the management both in writing and on the telephone. I specifically asked the bloodwork be cleared with a Temp Vet, I was told that it was, as was an inhouse fecal. Lola had hookworms but was cleared of them. I had the bill covered with the GRANT, a small amount of cash – part of that went to a driver $25 to get her there. I have no car and no transportation for myself. This was as far as this driver could go we put the $25 in her car for gas.  I called before I went to the office…I was over the top in communicating my budget and when I would be there.  The Temp Vet was obnoxious and gave incorrect information, she is being reported and I'm starting a petition to have her sanctioned and inform the public about her inabilities.
VETERINARIAN DISCIPLINE
Dr. Michelle Beatriz Londono has a series of online records that show her at offices that go in and out of business.  She has bad reviews in Tampa that are recent. I recognized her just by reading the review – before verifying it was her.  She has records online showing she worked in Brooklyn, NY, Miami, Florida, Tampa, Florida and now is seeking a Vet's License giving a North Carolina address.
It appears to be an old address.  Conflicting addresses in different locations are seen in online public records in recent filings with the State of Florida both for a Vet's License and for a business License. This does not match the picture of someone who is LOCAL as Animal Medical Clinic put out on their Facebook post. When I asked for her resume they didn't have it. End of 2021 Michelle Londono filed for an Annulment in a St. Pete courthouse, she received it. Her ex husband's online record appears to be criminal and will be posted with other court and online documents and applications, in a  petition for professional sanctions against her.
Link to the Petition to come.
According to Public Citizen only YOU can prevent bad Vets from Practicing, bad doctors as well, in the State of Florida.  The State rarely takes disciplinary action.
END OF THE UPDATE
I worked hard towards this day there is not time for me to do anything else right now, I'm alone.
LOLA'S STORY
iN 2019 Lola was leaving trails of pooh on my porch, it was clear she would disappear or die terribly is she was not brought in and given a large kennel that could be cleaned. Trails of pooh with her mom on my front steps below, she is safe inside. Please share this to Not For Profits that take or place Special Needs Manx Cats and to Caretakers, Thanks.
I no longer want to live here. I'm fighting to rehome Lola. A Special Needs CAT Sanctuary has made Lola their Special Needs Cat of the Month so she can be given some medical care.  I am learning more about training a cat in diapers, and rehoming a special needs cat.
  My Cat Family and I  lived two years homeless and on the run from credible threats by drug addicts-my brother's friends. After two years of not talking, my brother told me he was getting away from them himself. I was tired of being in the streets or living in dangerous places temporarily with 6 now 5 cats and took him up on an offer to move in with him. I stayed because right then he needed me. He overdosed after a month working from home in a rental with so many problems that he he was under a great deal of stress and pain, that added to his undiagnosed malignant liver cancer pain.
Lola was one of about two dozen cats rescue by a few different rescue groups out of a group of lots next to a highway.  I made the initial contact and told them about the dangers next to this highway, many were killed.
Lola's Grandmother had many litters.  With so many cats in the neighborhood they were generally disregarded, left to drink Water that is on a state well watch for and has nitrate contamination, and often not fed or left weakened for the Coyotes.
It was easier to rehome many of the kittens.  Lola and her brother were with an owner who later died. By the time I got her and him they were both feral and did not come up to people.
They were left on my porch by their mother in the back. They also had a sibling, I believe, with them a female. These three in the center Back to Front, Mom, Itzy and Lola ran together. Lola became sick and kept falling behind. One day she appeared on my porch with a polyp or aborting a kitten, either way very ill.
Subsequently both Lola and her brother were trapped. Her brother was TNVR'd but she was taken to my Vet's office where the girls thought they could handle her. She was ran around the office and was labeled too feral for handling. My vet gave her a cocktail of vitamins and pregnancy preventer and sent her back to me.  After getting stronger she went to the SPCA in Lakeland to be TNVR'd.
These are mostly earlier pictures of Lola.
TO BE CONTINUED WITH MEDICAL HISTORY & More Photos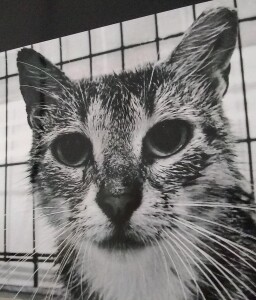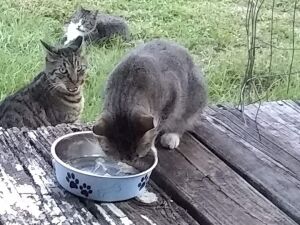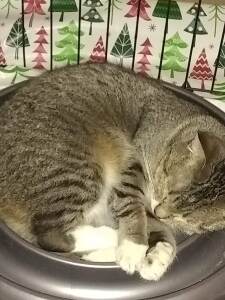 LOLA, FILM QUEEN  Lola's youtube collection:
This is older maybe the end of 2020
Lola & I have done this several times since then, she plays with me now
August 2019, this might be a rerun, She has needed out of here.
2022 this is Lola's last chance: Share with Special Needs
MORE PHOTOS of April 2019 when Lola Appeared Months after her Mom had left her brother Itzy. They were all bonded,  I don't know where she was. I do know that she had something sticking out of her backend that looked like a polyp and she could not get rid of it until a month later. I picked it up and trapped her to take her to the Vet, the first time.  This is where Lola lived with her family. The ground covered with glass in several layers of sand down. Off a highway here many cats were crippled by cars, dogs died.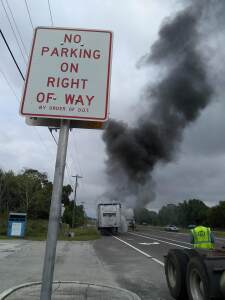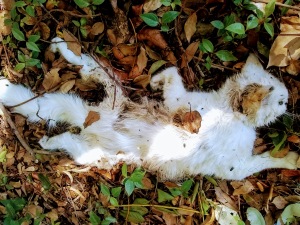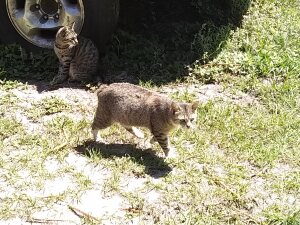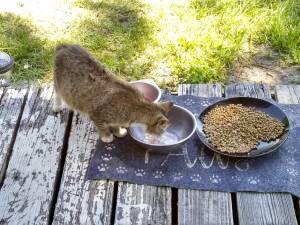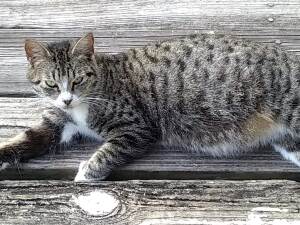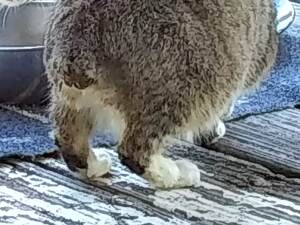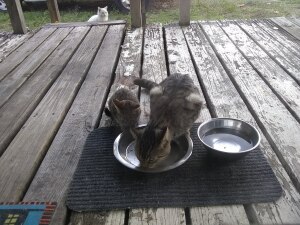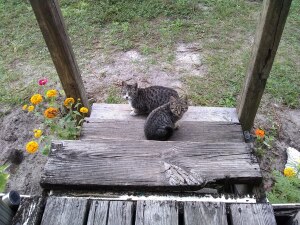 Lola's Mother disappeared in 2021 and is presumed dead, her possible sister Honey that ran around with little Itzy/ definately her brother. disappeared on Memorial Day in 2021. Itzy stopped eating. Itzy is now inside in hopes of finally socializing him enough to get his shots.
This is his last chance. All ten cats that came and went are gone from here. A neighbor told me they will kill him or let him die. My neighborhood is not kind to strays and the predators here are on two and four feet.
Please get Lola to a Special Needs Caretaker!
HEALTH DOCUMENTS, THERE ARE MORE
Lola had two Fecal Exams after the IDEXX REALPCR after Treatment by Dr. Jackson
Both Fecal Exams came up Negative for Hookworms.
The Person or Rescue who takes Lola will have to have some type of check done by me or the Special Needs Sanctuary that is sponsoring her!
I am not trying to get rid of her but to put her with an appropriate home.